From the New Zealand Herald
Geopolitical concerns may see an increase in high-end cruise ships plotting a course to Southern Hemisphere.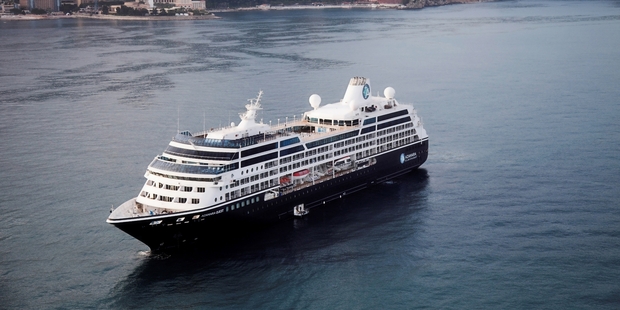 A luxury cruise industry veteran says New Zealand stands to benefit from global instability that is making cruising difficult in some parts of the world.
Larry Pimentel, president and chief executive of Azamara Club Cruises, said the outlook for his company's parent, Royal Caribbean, was rosy with one rider.
"Geopolitics - if anything that could derail, that's generally it."
Azamara is Royal Caribbean's boutique line for high-end passengers and is coming to New Zealand waters during the next three summers, where he said there would be rapid growth in the coming years.
Apart from being high on the bucket list for its passengers, part of the motivation for coming to New Zealand was to avoid trouble elsewhere in the world said Pimentel, who has headed Cunard Line and has more than 25 years of experience in the sector.
"I remember having this conversation with itinerary planners and saying 'Let's go to New Zealand, let's go to Australia where we're less likely to have geopolitical nightmares that we can have in Europe'," he said while in Auckland.
Egypt and Tunisia were off the map for itinerary planners, the Black Sea region was unstable and the flood of refugees to southern Europe presented big problems for cruise lines.
"Now with the migration it's very problematic because you have thousands of people taking small craft. Ships have an obligation under law to pick them up - it's very precarious because if we pick them up a country can say we don't wish to have them and we have to repatriate them by law."
He said it was likely fewer ships will cruise around the eastern Mediterranean.
"I would say the eastern Med would be very complicated."
Pimentel said Azamara surveyed its passengers more than two years ago to find out where they most wanted to go.
"We have a very affluent guest and it turns out that New Zealand was one of the top of the bucket list and that was because of the natural and organic beauty and the fact it is so remote for most that they hadn't seen it but everything they knew about it was very positive."